Ayurveda-Yoga-Massage Training in Köln
Die Kombination aus den Heilmethoden Ayurveda und Yoga vereint: Gewinne neue Energie und fühle dich leichter und besser in deinem Körper. Du kannst die Techniken erlernen, für dich selbst nutzen oder anderen mit einer regenerierenden Massage Gutes tun.
Ein 8-tägiger Kurs zum entdecken, lernen und vertiefen der ayurvedischen Yoga-Massage. Für alle Level und jede/n geeignet, ob Anfänger oder Profi.
Dieser Kurs ist eine tolle Vertiefung der Praxis. Teilnehmer können bei dem ersten Teil 20.-21. Mai mitmachen oder den ganzen Kurs buchen; Priorität gilt aber für die Anmeldungen des kompletten Kurses.
Ayurvedische Yoga Massage
Alle Kurseinheiten werden von Ananta geleitet, die Unterrichtssprache ist Englisch.
Ananta Sylvain Girard übt seit 20 Jahren die Methode der ayurvedischen Massage und war einer der frühesten Assistenten von Master Kusum Modak (Gründerin der AYM-Methode).
Zudem arbeitet Ananta mit Blandine Calais-Germain zusammen (Autor der Best-Seller Bücher "Anatomy for Movement" & "Anatomy Yoga"), zusammen unterrichten sie im Calais-Germain Center in Frankreich.
Ein Einblick in Anantas Methode:
AYM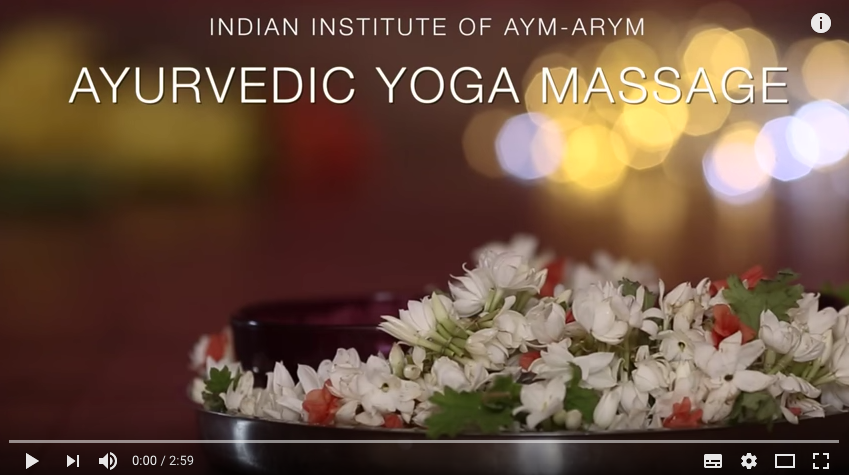 ---
Ayurvedic Yoga Massage training by Ananta Sylvain
DIPLOMA-TRAINING-COURSES
AYURVEDIC YOGA MASSAGE TRAINING COURSE IN COLOGNE
8-DAY LEVEL 1-4 CERTIFIED THERAPIST COURSE: May 20-28
Level 1 Introduction and Fundamentals: May 20-21
The essential foundation course – The course introduces the AYM-ARYM and covers main massage strokes and stretches for the back of the body. This includes stimulation using the feet, for the back as well as back of the legs.
Level 2 Fundamentals 2: May 22-23
Covers massages and strokes for the frontside of the body – This includes frontside of the legs, and the basic strokes for abdomen, chest, neck and face. By taking Levels 1 and 2, a student will gain an introduction to a basic full body treatment using the ARYM method.
Level 3 Advanced: May 25-26
This level will introduce the advanced stretches and techniques unique to Ayurvedic Yoga Massage that help you deal with a wider range of client needs. This includes Assisted Yoga Stretches for the back, legs, as well as seated stretches for the arms, back, chest, neck and more.
Level 4 Integration + Therapist Certificate: May 27-28
In level four, the student learns to give a complete Ayurvedic Yoga Massage session, integrating all of the material learned in Levels 1-3. The complete AYM stretching series are demonstrated, and the student learns how to choose the most beneficial sequences for each client. The student completes L.4 with an individual session test preforming a full massage. On completion of L.4 you will be able to take part in the Reflective Practice programme: Log your sessions online, track your progress and development, and receive ongoing feedback from the instructor as you practice giving massages on your own. (Logged sessions count towards additional hours on your course certificate/diploma).
8-DAY LEVEL 5 THERAPIST DIPLOMA COURSE: May 20-28
Level 5 Therapist Diploma course: May 20-28 (Pre-requisite: prior completion of L.1-4).
8-DAY LEVEL 6 INTERNSHIP: May 20-28
Level 6 Internship course:May 20-28 (Pre-requisite: prior completion of L.5)
TIMING
Level 1-4 & L.5: 9:30am-5:30pm
Level 6 Internship: 9:15am-5:45pm
Day off: Wed.24 of May
FEES
Level 1: €300 EUR | L.1-2: €600 EUR | L.1-3: €900 EUR
L.1-4: €1.080 EUR
L.5: €1.080 EUR
L.6 Internship: €1.080 EUR
VENUE:
Yoga Grube Carl
Alte Brikettfabrik, 2. OG
Von-Klespe-Str. 7
50226 Frechen